About Ajisai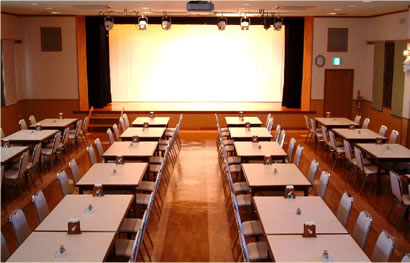 Ajisai Dinner Theater
(Pronounced: "Shi-a-ta Se-ki")
If you are looking for a great night out in Ishigaki-jima and would like to experience traditional Yaeyama folk music and dance, Aji Sai offers a live performance every night starting at 7:00 p.m. The show is approximately 40 minutes long and it takes place in the dinner theater; located on the first floor.
This room seats up to 145 people. Banquet halls are also available on the second floor, which seat between 15-120 people, with an advanced reservation.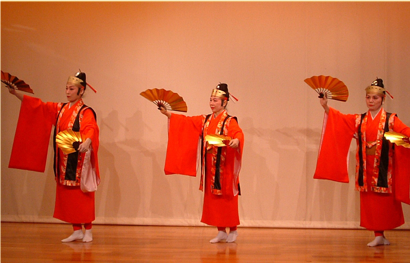 Yaeyama Traditional Folk Dance

The Yaeyama Islands are highly renowned for their musical heritage and performing arts. At Ajisai, we will treat you to a variety of classic dances styles and traditions. Some of the different dance traditions include: O-n-na O-do-ri (literally woman dance), O-to-ko O-do-ri (men's dance), Wa-ka-shu O-do-ri (young boy's dance) and Zou O-do-ri (a collection of miscellaneous dances.) We will also introduce you to culturally significant music as well as the ornamental headgear, costumes and props of the Yaeyama Islands. Please join us for an enjoyable evening.
There is a distinct difference between the dances of mainland Okinawa (Ryukyu style) and the Yaeyamas. The Ryukyu style was originally performed to entertain visiting Chinese envoys and Japanese clans, whereas the Yaeyama dances were performed as offerings of gratitude to the local gods for a rich harvest year and to ask for their favor in the year to come. Since these dances are considered solemn rituals; they are usually performed with expressionless faces.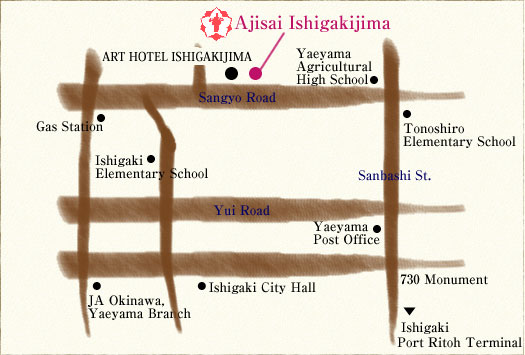 Ajisai Ishigakijima  
554-1Ohkawa, Ishigaki-shi, Okinawa 907-0022
TEL: 0980-82-2700
FAX: 0980-88-8600
E-mail:
info@e-ajisai.jp
30 minute drive from Ishigaki Airport
5 minute drive from Ishigaki Port Ritoh Terminal
Next to Hotel Nikko Yaeyama